Skip to main content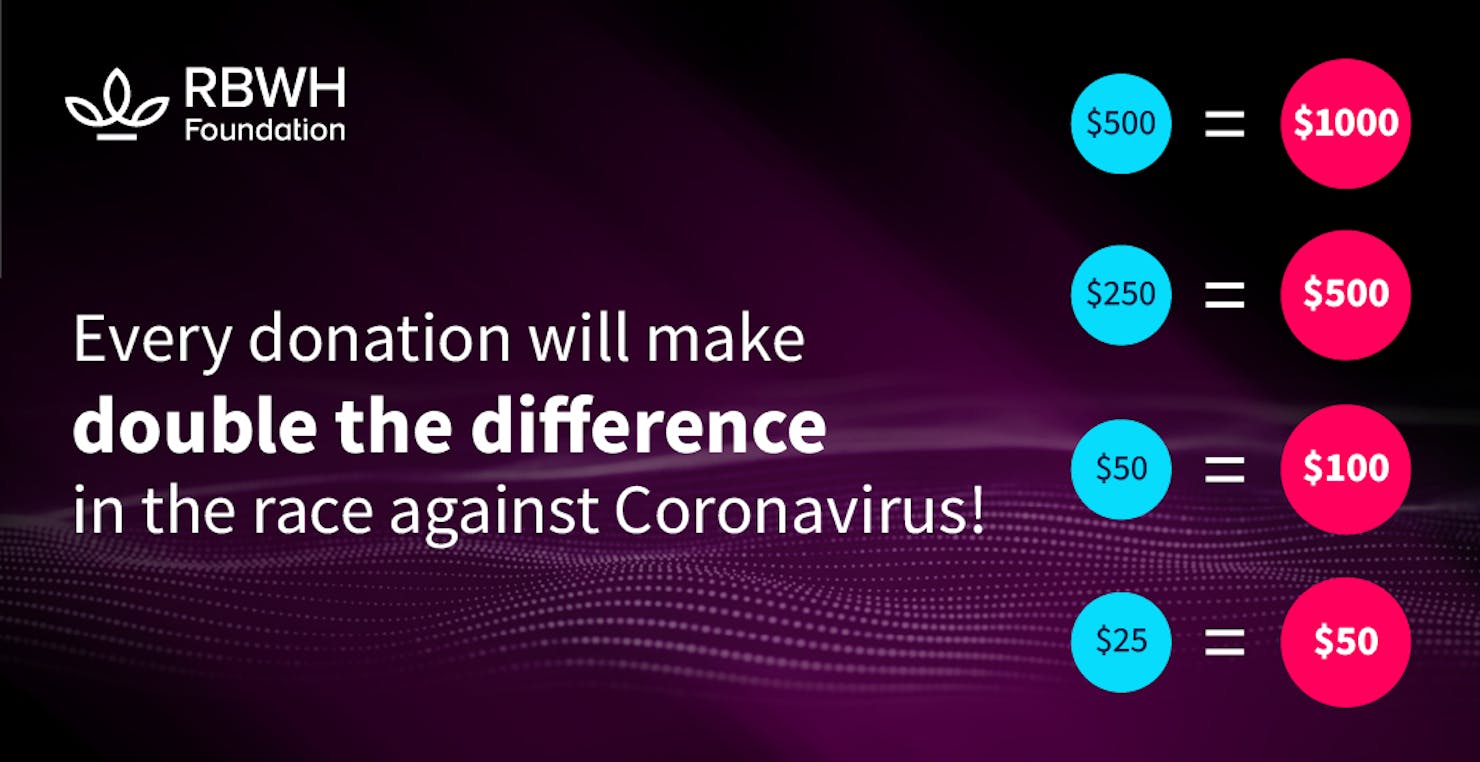 Help us win the race against Coronavirus.
You can double our chances of beating COVID-19.
Keith and Glenda Drake are business people and great-grandparents who have spent their life working hard and growing a nest egg for their family, all while caring for their son who has cerebral palsy. When Coronavirus arrived on our shores, Keith and Glenda made the generous decision to donate $100,000 of their savings to support the RBWH's efforts in combating this virus.
Keith and Glenda's donation will mean that you can double our chances of beating COVID-19, every donation made by you will be matched by the Drakes up to $100,000. Every dollar can and will make a difference, thanks to Keith, Glenda and all our incredible donors.
A message from David Rosengren Executive Director, Royal Brisbane and Women's Hospital.
First of all, I would like to thank you for adhering to social distancing guidelines and for keeping our healthcare workers safe.
Over the past few months the RBWH has:
Increased ICU beds and treated COVID-19 patients
Ensured healthcare workers are protected with the appropriate personal protective equipment (PPE) and supported during this crisis
Developed emergency plans and increased the number of ventilators and other vital medical equipment on hand in case of a substantial increase in COVID-19 patients
Established fever clinics, new patient and hospital protocols, and conducted thousands of COVID-19 tests
Distributed drugs to around 70 hospitals in Australia and over 10 hospitals in New Zealand for COVID-19 clinical drug trials
Elective surgery has now resumed at the Hospital, but in the coming months we will continue to ensure that we are well prepared for COVID-19 patients should an outbreak occur.
It is vitally important that we continue to do everything we can to prevent further infections and continue to develop treatments. We know this is a difficult time, but your donation will double our chances of beating COVID-19.
A message from Professor David Paterson, Royal Brisbane and Women's Hospital Consultant Infectious Diseases Physician.
I'm Professor David Paterson, Royal Brisbane and Women's Hospital (RBWH) Consultant Infectious Diseases Physician. I oversee a team of world-leading clinical researchers and scientists who are working on a broad range of projects that will help in the fight against COVID-19.
RBWH Foundation has provided funding for urgent medical research projects such as COVID-19 clinical drug trials and is also raising funds for projects such as:
Testing medication dosages for COVID-19 patients
Testing a tuberculosis vaccine to protect frontline healthcare workers
Developing COVID-19 related superbug treatments
Grants supporting research in emergency medicine, infectious diseases and intensive care medicine.
We are extremely grateful to Keith and Glenda Drake who are matching all donations up to $100,000. Your donation will fund research into new treatments and prevention methods to fight COVID-19. With your help, we can get answers faster to overcome this pandemic and prevent so much additional suffering.
'RBWH research has improved the treatment of bacterial infections, not only here, but worldwide. By increasing our medical research capabilities, we can do the same for COVID-19.'
Prof. David Paterson - RBWH Consultant Infectious Diseases Physician 
If you wish to make a direct deposit (non-direct deposit transactions may incur third party fees) discuss your donation or require any additional information, please contact Nadeyn Barbieri, Philanthropy Manager. Call 0410 011 446 or email n.barbieri@rbwhfoundation.com.au
100% of all donations to the RBWH Foundation will go directly toward these research or hospital support projects.
All donations over $2 are tax-deductible. If you are unable to donate during this difficult time, please share the RBWH Foundation Coronavirus Action Fund with friends and family.